It's Thursday night in Buenos Aires, Argentina, and the sounds of women laughing can be heard spilling from the walls of WWO Latin America Coordinator, Pachi Zabala's home. Inside, young women gather to eat, talk, pray and most importantly, feel like they are seen and heard in their struggles. Many are either orphaned or have lost one parent. They also either happen to play or are in training to play on an Argentine women's professional football team.
Not only is Pachi facilitating the training and development of leaders and teams at a regional and country level in the WWO movement across Latin America, she is investing time locally by supporting these young women. Much like a WWO learning community ( a group of organizations, individuals and churches that come together to learn from each other and advance the strategic initiatives to help orphans and vulnerable children in their countries), Pachi is fostering an environment that encourages learning and growth as well as space to become family to each other.
Fun Facts
Favorite color: Blue
Favorite food: Asado
"I have learned and grown so much as a leader myself thanks to the humble attitude of the World Without Orphans movement, " said Pachi. "WWO has given me so many tools to help me better understand these young women and how orphanhood has impacted them. I have also learned how to become more like a family to these women thanks to WWO leadership and support to help me grow in skills for strengthening families and trauma efficacy."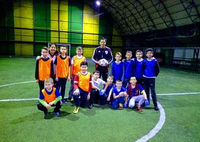 When Pachi isn't developing leaders and building new WWO initiatives, she spends a lot of time at the football field watching the young players' games. God has a way of preparing us for our journey and as it turns out, Pachi herself once played on a professional football team.
"As someone who has always had a passion for football and played on a professional team in Albania, I try to go to all of their matches to show them someone cares," said Pachi. "I understand the struggles they go through in life and in their sport since I have been through some of the same ones."
Pachi was attracted to the vision of World Without Orphans because she herself was adopted as a baby. Her biological mother was from the streets of Argentina and already had two sons. Her adopted mom had endured the heartache of losing eight babies. The two moms were in the hospital at the same time and her birth mother decided to place Pachi for adoption. This hard decision for one mother was an answer to another mom's heartache.
Her adoptive parents divorced, however, when Pachi was five years old and she later lost her father to cancer. It was at that time, at the age of 18 years old, that she met God and was planning to become a nun in the Catholic church.
Instead, she became involved with Youth With A Mission (YWAM) and did a Discipleship Training School (DTS) with them.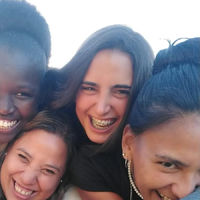 "Andrea, who was one of my leaders from YWAM, really made a difference in my life," said Pachi. "She encouraged me to be a part of the family and we ate together. I wasn't used to people asking what time I was coming and going and I wasn't used to being in long or close relationships, so it was hard for me at first. However, God spoke to me during this time and talked to me about the arrows of rejection. I later did training that helped me understand how my adoption impacted my life and I started to realize that what I was experiencing at Andrea's was someone caring about me. I felt God calling me to be a voice for orphans."
This calling led Pachi to Shkoder, Albania in 2018 where she worked with YWAM to open a center to serve the predominantly Muslim population through sports as well as offering services such as English classes. It was in Albania that God led Pachi on a "treasure hunt" one day. The destination turned out to be a football field where the Albanian women's team was practicing.
"I had always liked football and wanted to play, but when I was a child, I hurt my leg playing basketball, and my mother wouldn't let me play football because of this," she said. "I was surprised when the treasure hunt led to a football field. God opened a door for me and one month later I joined the women's professional football team and started obtaining my license for professional football."
She played for ten months on the Albania Ajax soccer team.
Pachi's time in Albania was impactful and as God does, preparation for what was to come. She returned to Argentina in 2019 to work with YWAM and started to realize there was an orphan spirit everywhere, not just among those who had been orphaned. This revelation led to Pachi becoming more involved with the World Without Orphans movement.
"I started to notice the same struggles that orphans and adoptees might have with abandonment and rejection surfacing in other people too and realized that the orphan spirit can affect anyone," said Pachi.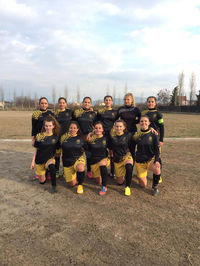 Then one day, Pachi got a call from a couple that would change her life. Knowing Pachi had a passion for football and a heart for helping others who had been orphaned, she was asked if she could go to the airport to pick up the potential goalkeeper for River Plate, one of the most well-known and prestigious teams in Argentina. This young woman, who had been orphaned, was being offered a position with the team but she wasn't sure about taking it and having to move to a new city. She ended up living with Pachi for a month while she was trying out for the team as well as testing life in Buenos Aires.
During this time, Pachi said God really spoke to her and she would make a decision that has changed the course of her life.
"After this young woman had lived with me for one month, God reminded me of the immense impact that Andrea from YWAM had on my own life," said Pachi. "Andrea had always told me that God put great gifts in me and now God was talking to me about those as well. I asked Daniela if she wanted to live with me and she did. Then, six girls started coming over and we had Bible studies at my home."
The WWO vision to see every child in a caring and loving family and to help them grow into the gifts, talents and purpose that God has for them, started to play out in Pachi's own life.
"As my work with WWO grew, so did the skills I was learning," said Pachi. "It was the right time for me to put what I was learning into practice and create the best place for helping these young women to grow in their God-given identity."
In 2021, they moved to a bigger apartment and every Thursday girls from the professional team come and stay over. She also offered a home to other players who needed a place to live and support. Currently she has two young women who live with her, Sophia (14) and Daniela (24).
"Pachi has impacted my life in an extremely positive way," said Daniela. "Without her, I wouldn't be playing football professionally. She made it possible for me to take a big step in my career and in my life. She helped me to adapt to the major transition of moving to Buenos Aires, gave me a place to live and taught me how to manage life in the city. She takes care of me and has been by my side throughout the entire process. She is like my family here in Buenos Aires. Her support has not only helped me economically but to grow personally as well."