For the past 21 years, the ministry Vanitashray has been serving the needs of orphans and vulnerable children and women across Maharashtra, India. Their goal? To give every child the chance to live with a family and reach their full potential. What began as a small children's home for young girls has now transitioned to a day center which helps children remain with their families, and equips single mothers with job training that enables them to provide for their children.
The COVID-19 pandemic has affected Indian life in every possible way. From the economy, to health care to countless lives lost. This humanitarian crisis has affected millions of people across the nation, and those living in the lowest rungs of society have been hit the hardest. But instead of it halting their work, the pandemic has only increased the scope of Vanitashray's ministry and impact. Anu Silas, Vanitashray's founder and director shared, "There are many young children who have lost their parents to COVID, some have lost their only adult caregiver and are vulnerable at this point of time."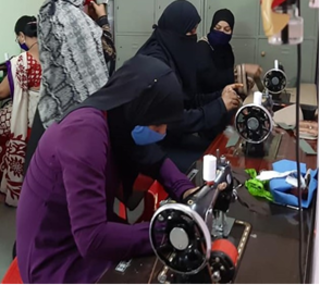 Anu continues to work with poor families and single mothers and together with her team is providing food and meeting the needs they can. "We have been working in areas where people are shoe polishers, rag pickers, car cleaners, and vegetable vendors. These people are daily wage earners and they spend their daily income, which is about 100 to 300 rupees ($1.36 - $4), on an average family size of five or six." 
Despite receiving food and rations from Vanitashray, many single mothers still had to meet other needs such as milk and medicine for their children. To help these families, Vanitashray launched a skill development centre soon after the first national lockdown lifted. Their first 12 students received job training and now can actually work from home and keep their children safe and engaged as schools for little ones still remain closed.  "We are committed to work with these women and are helping them handcraft cloth bags, patch work quilts, and make other products to help them with self-sustainability and to earn a living," shared Anu.
The skill development training includes tailoring, nail art, hair styling, cooking and baking, and beauty therapy. Vanitashray's hope is to empower those who have been marginalized.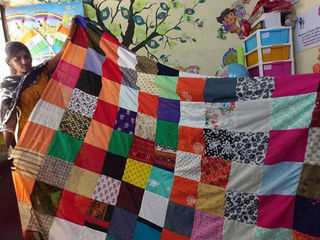 Testimony from a mother served:
"I lost my husband 3 years ago. He ended his own life & left me and my two children forever.  After his death my in-laws withdrew their support and so I moved back to be with my parents. My parents were very supportive of me and my kids.  I worked as house helper to support our family till one day Anu, the founder of Vanitashray, came to our slum to encourage women to join their tailoring courses.  I had a desire to start on my own and thought that learning something will help me be independent. I started learning tailoring and started making bags, coasters and other things. Today I take orders, I am educating my children and independently supporting my family!"   
Join us in praying for Anu and the team at Vanitashray as they continue to battle amidst the COVID-19 crisis in their community and serve the children and families around them.