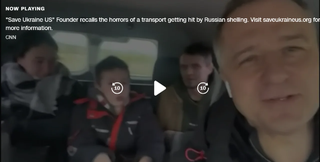 Thank you for supporting the people of Ukraine through our ministry partners like Mykola Kuleba. In this interview on April 8, Mykola shared about some of the thousands of Ukrainians his team has helped to rescue with your support.
Mykola has been an advocate for vulnerable children and an important part of God's work in his country for years. Back in 2008, in a gathering of a few Christian leaders and pastors in Kyiv, Mykola prayed, "Lord, I want to live in a Ukraine without orphans." The prayer captured God's heart for children and became the vision for a movement, first in Ukraine and then throughout the world, for every child to be cared for in a safe and loving family and to know their heavenly Father. It was the seed from which World Without Orphans grew.
From 2014 to 2021, Mykola served as the Minister of Children's Rights in Ukraine. Now he is coordinating a large-scale evacuation effort to help orphans, children with disabilities, and vulnerable families escape from war hotspots to western Ukraine and abroad. As of today, he and his team have evacuated over 23,500 adults and children. Of those, more than 1,200 are vulnerable children from institutions.
Thank you for your generous support. Your prayers and giving are making a difference for children like 6-year-old Nastya and her grandmother (pictured below) who Mykola and his team rescued on April 5.